Blog
Telekinetic Coffee Shop Surprise – YouTube.
I'm Only Responsible for… by =IrvingGFM on deviantART
▶ Give Me Joy by The Intermission Project. Via Jamie Olivers and Food Tube http://goo.gl/v0tQr
pixelpressgame: Last week the following announcement went out to our Backers in a Backer-Only update – we're sharing it here so that others can see more details on the behind the scenes of the announcement, specifically some of the reasons[...]
via prettyclever: Here is today (via Flowing Data)
You have to see this one… Awesome Disney short
I'm a proud dad, happy husband, teacher and basketball referee
… as I've already already mentioned. I'm happily married since 2007 to Nathalie, who works in Contern at her own cabinet de kinésithérapie: kinecontern.lu. My son Philippe was born in 2007, my daughters Céline Audrey Emilie and Marie Hailey in 2010 and 2012.
I'm a teacher in Differdange/Lamadelaine at the Lycée technique Mathias Adam (ltma.lu). You can find more information about my work under this section:
Apart from refereeing a lot of basketball games during the weekends, I'm also member of the kommitee and webmaster of the Basketball Referees Association at adabl.org.
Other hobbies: tech addict, movie nerd, tvshow aficionado, casual gamer, ebook lover.
Languages:
Resumé
Immediately after my studies, I've decided to join a crew of young teachers at the Lycée technique Mathias Adam in Differdange, Luxembourg (ltma.lu). I've since seen many changes at our school, the biggest one being the fact that we are officially the first school in Luxembourg equipped only with interactive whiteboards from Promethean. This happened during the 3-year long remodeling and rebuilding of our school in Differdange. Due to my interest in technology, I've decided to invest myself in this project.
In 2012, I've led a seminar for adults on how to use interactiv digital whiteboards in classrooms at the Centre de Logopédie in Luxembourg, organised by the national Institut de Formation.
Interactiv Digital Whiteboards
In 2009, I've co-founded an internal group of tutors to organise and teach our co-workers how to use the interactiv digital whiteboards in our classrooms at the Lycée technique Mathias Adam.
Teacher
Since 2004 I've been teaching underprivileged young adults (age 13-17) at the Lycée technique Mathias Adam.
Spécialisation: enseignement primaire
University of Luxembourg
Kids moderator during recreational afternoons organised by the township of Sanem (student job).
Lycée Hubert Clément Esch
EP Soleuvre / Scheuerhof
EP Schifflange
Speciality: Interactive Whiteboards
Using interactive whiteboards in the classroom
A few years back, our principal decided to ask our ministry to equip our school with digital whiteboards. Since the whole school was to be rebuild, the decision was taken to equip the whole school with those digital whiteboards. Therefor we started a group of tutors in 2009 in order to teach our co-workers how to use the whiteboards in our classrooms. I've been part of this group since then, together with 4 other teachers from our school. In 2012, I started to lead seminars for adults on the use of IWBs in classrooms, organised by the national Institut de Formation. I've been looking to widen my horizont on this subject ever since.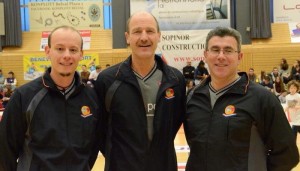 Basketball referee
Since the age of 15, I've been a basketball referee. I've had the chance to take part in a few very interesting international tournaments and was able to progress far enough to referee every division in Luxembourg.
Webmaster ADABL
As part of my engagement in the committee of basketball referees in Luxembourg, I've been webmaster of our homepage. (Adabl.org)
 Webmaster Kinecontern.lu
Together with Alessandro Unfer, I'm webmaster of kinecontern.lu, the website of my wife's workplace.
Reading
Very often Science fiction and Fantasy, mostly on my kindle paperwhite.
Calligraphy
During holidays
Longboarding
If I ever find the time, which isn't often
Collecting tv-shows and movies
My evening passtime
Copyright by Dan Kerschen. Powered by WordPress.